Today is the first day of my 10 date midwest run with Son Ambulance.  Right now I'm sitting at The Old Mattress Factory or The Matt Bar and Grill as it says on my pint glass – eating some fish tacos and looking at 13 different large screen TVs showing baseball and golf.  
This afternoon I visited Antiquarium Records.   I got a used copy of Grizzly Bear's Yellow House on CD for $4 and I spoke with Chelsea.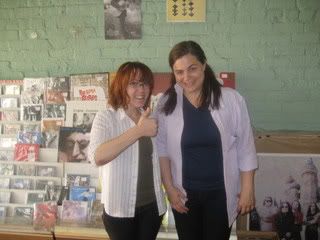 JO'C:  How long have you been working here?
Chelsea:  About 3 months.
JO'C:  What did you have for lunch today?
Chelsea:  A bagel.
JO'C:  What's your favorite place to eat in Omaha?
Chelsea:  Amsterdam Falafel & Kebab on 50th Street.
JO'C:  That's the 2nd time I've gotten a falafel joint recommendation in my 3 times asking this question of record store employees.  Hmm…. 
What's your favorite local band?
Chelsea:  Box Elders  (Jeremiah of  Box Elders was hanging out behind the counter with his geetar).
JO'C:  What's your favorite record of 2008 so far?
Chelsea:  Times New Viking!
JO'C:  Yes, I've heard of them somewhere.  No, I'm kidding – I love their record too.  To continue the Matador theme we have going here, what is your favorite Matador band of all time?
Chelsea:  Pavement!
JO'C:  Good choice.  
Anything else you'd like to add for the Matablog readers?
Chelsea:  Keep buying records and going to record stores!
JO'C:  Wise words.
I would like to note that this was a charming store with very nice people and lots of vinyl!  When I told Chelsea I was on Matador and what I was there to do, she remarked that she wasn't cool enough for Matador – that I should wait for the owner to come back because he was cooler.  I just want Chelsea and everyone else to know…that they ARE cool enough for Matador.  Matador loves you.  And so do I.
xox
PS. I'll be doing some myspace blogging about the shows and such on my, uh, myspace page.