Hi Matablog Readers!
I started a tour today supporting Jamie Lidell and I'm in Chicago at the Abbey Pub awaiting soundcheck. Because I enjoyed participating in Record Store Day so much earlier this year, I've decided to visit local record stores in some of the cities we are playing and find out the answers to some important questions. This is my way of continuing to celebrate all the awesome record stores throughout the country. 
Today, we went to Reckless Records in Wicker Park and talked with Dan.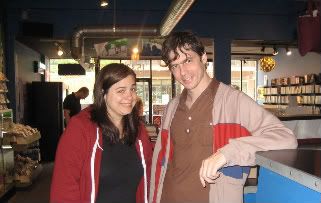 JO'C: How long have you worked at Reckless?
Dan: About 4 years.
JO'C: What did you have for lunch?
Dan: A chicken flatbread sandwich from 7-11.
JO'C: Do you have favorite restaurant in the area?
Dan: I'm not really a foodie, but I like this Middle Eastern place down the street called Sultan's Market.
JO'C: Do you have a favorite record of all-time and if so, what is it?
Dan: Hmmmm……
JO'C: Am I putting you on the spot? We can come back to this one.
Dan: Ok, let's come back to it.
JO'C: What record are you guys selling a lot of this week?
Dan: The new Portishead.
JO'C: Any thoughts on your fave record yet?
Dan: I'll say Daydream Nation, but if you ask me tomorrow, it might be something else.
JO'C: Fair enough. Anything you'd like to add, that you'd like the Matablog readers to know?
Dan: I don't think so.
JO'C: Ok. Thanks for talking to me. I think those are all the hard-hitting questions I have.
Ok! Tomorrow is Toronto and if we have time….we'll be hitting up a store there too.
JO'C, record-store-reporter, signing off.
xox