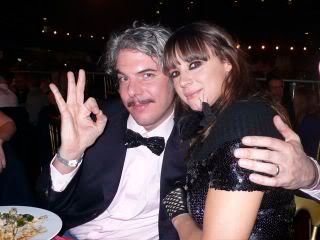 This was the scene on Wednesday night at the glittering Brit Awards, the UK's equivalent of the Grammys. Cat Power was given the accolade of being nominated as Best International Female and both Chan Marshall and co-emperor of Matador Records Chris Lombardi are seen taking it all in. Held at Earls Court (surely the worlds biggest hanger?) home to the Ideal Home Show and various superstar triumphs and disasters over the years, thousands of media industry types and even more pop loving civilians witnessed a roll call of the great and the good (it says here). OK it wasn't the "carnival of mayhem" Russell Brand promised us and we all secretly wished for but there was enough going on to keep us amused and appalled all night. Compere Mr Brand's opening salvo at David Cameron raised him a notch or two to my mind and although he managed the usual percentage of own goal jokes ("Queens vagina" anyone ? I mean anyone?) he carried off the night with ease.Unfortunately Cat Power didn't walk away with the award she so justly deserved but since when has true and authentic quality, style and genuine talent won out against production teams, song doctors and corporate back scratching at such events. (OK a couple of times). But we weren't the only ones that wuz robbed Justin Timberlake over Bob Dylan, don't get me started.
Rumours of strange fluctuations in the telephone voting I am sure are just that. Of course Orson deserved that award – fair and square. And to my mind their acceptance speech was one of the low highlights of the evening that makes the Brits such a memorable entertainment in the pop firmament.
The Arctic Monkeys didn't accept their awards in person but their filmed acceptance speeches first dressed as characters from the Wizard of Oz (great cowardly lion by the way) and then as the Village People really did show their humorous side.
I also learnt that British people LOVE Take That. I mean everybody or at least 99% of them and the other 1% are probably in comas. They have obviously transcended every hurdle to become the sort of icon that is unimpeachable (at least until the next tabloid revelation – build em up and shoot them down).
And we finished up with only one staff member missing in action the next day.