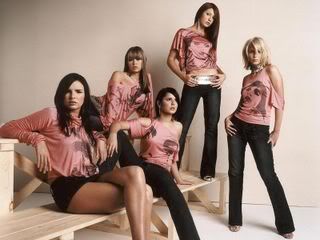 Girls Aloud interview for The New Statesman
link via Popjustice
My beloved Girls Aloud get their Noam Chomsky on:
Nadine: "You know that basically Labour is the working class and the Conservatives are the really, kind of, upper class, and then everything else is . . . I have no idea."
Foolhardy Nadine later has an awesome rant about footballer's wives, momentarily forgetting that her bandmate Cheryl is one.
Their Greatest Hits album, out now, is disappointingly low on Billy Bragg covers.