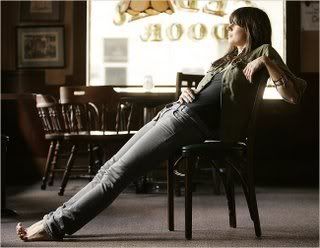 Not to toot our own horn too much but it's been a bit of a bumper crop for Matador press in the music magazines this month.  First and foremost we'd like to congratulate CHAN MARSHALL on being 'WOMAN OF THE YEAR' in Uncut.  That's right, she beat off stiff competition from Girls Aloud and the Sugarbabes to achieve what is, quite frankly, the highest accolade to be bestowed on a woman since Cilla Black was awarded an OBE.  It's also no mean feat that her counterpart as 'Man Of The Year' is her favourite man, Bob Dylan and the legendary Neil Young is 'Hero of the Year', she's in good company!
Accompanied by a 3 page feature with some spectacular photos by Pieter Van Hattem (some of which you can see here) CAT POWER's "The Greatest" also ranks at number 14 in the end of year polls, which coming out at least a month before everyone elses, shows Uncut as a forerunner of good taste.  The list features no fewer than three Matador artists in the top 30.   Yo La Tengo are number 27 with their masterpiece "I Am Not Afraid Of You And I Will Beat Your Ass"and the magazine calls Ira Kaplan "a truly innovative guitarist". High praise indeed but not quite as great as To Hell With fanzine's Bush Hall show review a few months back where they describe Ira as being "the best guitarist I've ever seen in the flesh. That might be a bold claim, but one I'd stay firm on, such is the power, spontaneity and energy of his guitar playing. It's a dazzling sight." And that's from a new convert to the band's awesomeness, long may they bring new followers into the fold!
For the full Uncut list you can try various blogs etc but this is one of my favourites (by Beggars' own Annette Lee!).
Not forgetting one of the other great UK publications, Mojo features Dead Meadow in the Buried Treasure section. Ok, it's not technically a Matador release as it's a reissue of their first album originally on Tolotta and now available again through Xemu, but we're not picky.  We *heart* Dead Meadow. The article is written enthusiastically by number one Dead Meadow fan Gruff Rhys from the Super Furry Animals and it is a WHOLE PAGE, which in these days of cutting space and copious advertising, is excellent coverage.