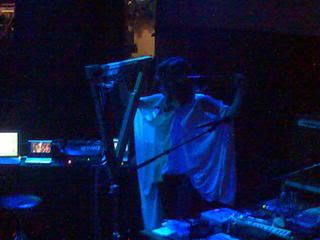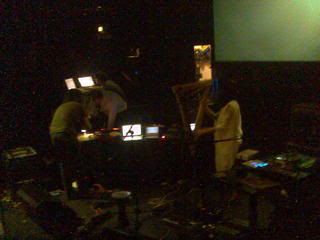 First up, I've got to apologize for these pictures. Between myself and Mike, we managed to make concert photos look like surveillance footage. I've seen clearer photos of the Loch Ness monster. Mike did get this photo of Martin wearing a rather lovely cushion/hat afterwards, though.
Second up (is that a term?), I must apologize for the lack of Haswell/Hecker noize action. You may remember a few weeks ago I did a post extolling the virtues of Russell Haswell and Florian Hecker, whom I thought were supporting Matmos at the Koko show. Well, they weren't. Sorry. It had nothing to do with me or the men of Matmos. Haswell/Hecker are performing as support for Sunn 0))) and Burning Star Core at this year's Frieze festival, though, and I'll be there, so you can berate me in person if it makes you feel better.
Anyways, on to Matmos. They do occupy that strange area of performance where it seems equally appropriate that they play seated venues or club spaces. Although I had my reservations, Koko turned out to be perfect – a very theatrical venue that normally plays host to indie rock and A-list celebrity pop shows decked out in chairs for a show by a band who bridge the muscal gap between…well, everything, really.
Current collaboroator Zeena Parkins did a couple of pieces on her own first, and she is now my favourite working harpist (screw you Newsom). Eschewing any normal sounds you might hear emanating from a harp, Parkins instead built loops of buzzing string drone, and blasting waves of noise by attacking her instrument with what looked like a pumice stone. It was very different from what I'd heard from her in the past, and I'd love to see a full set from her. Like NOW.
Zeena returned to the stage about 15 minutes later and began reading from Valerie Solanis' 'S.C.U.M' Manifesto. And then on came Martin and Drew, aided by Nate Boyce and began to build a room-rattling take on 'Tract For Valerie Solanis' – I really cannot emphasise enough just how powerful the bass was last night (you know when you can feel it in your teeth?). Nate's visuals for this involved the bizarre sight of a rose slowly opening out of a cow's uterus, which was as funny and disturbing as the song itself. They proceeded to charge through a fairly dance-heavy set (maybe cause it was a seated show), and I was ecstatic to hear them do 'YTTE' from 'The Civil War', replete with all sorts of abstract harp strums from Ms Parkins. 'Rag For William S Burroughs' was denser and shorter than it's album incarnation, and 'Steam And Sequins For Larry Levan' climaxed with all four performers hammering away on bongos and triangle for maximum disco action, coupled with Nate's epilepsy-inducing visuals – I didn't see, but surely someone must have been dancing on the bar. Surely.
Watching the first season of 'A Bit of Fry and Laurie' and listening to composer Carl Stalling this weekend was a perfect setup for going to see Matmos – they're all artists who apply all their academic enthusiasm to bending high-culture (Fry & Laurie: literature & language, Stalling: orchestral composition, Matmos: music concrete) into inappropriate, populist and occasionally silly shapes without forfeiting any of their fierce intelligence. This is even more apparent for Matmos live – it's usually about halfway through the gig when after being blindsided by the music itself, I start to think 'Hang on, how the hell are they doing this?'. And apparently, it involves sticking metal tubes into dry ice.
In conclusion, it was a fun and baffling night out.