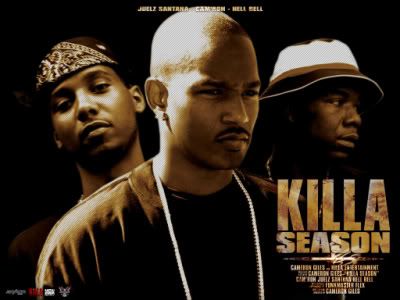 Fetishizing US black pop culture is something of a given when it comes to blogging – especially for us Europeans, who pre-internet would probably never have come across Texas rap's preoccupation with cough syrup and DJ Screw, hyphy, ghostriding etc.
The Diplomats are another one of those things I probably would have not had that much exposure to were it not for blogs. They never seemed to get any special attention on hip-hop radio in England before the Byrd Gang mixtapes, but on the internet, they were superstars. All of this is a precursor to the fact that I finally got around to seeing the film made by Diplomats head honcho Cam'Ron, 'Killa Season'. Now, theres a lot of valid discussion about the veiled racism involved in justifying some of the more objectionable aspects of The Diplomats' lyrics (amounting to 'The funny way that black people talk entertains me, therefore it is not real'), but Cam'Ron specifically is at his best when he's too surreal to be taken seriously. When he drops the flights of fancy and just does standard trap-music, detailing street life, he's eloquent, but kinda dull. Sadly, 'Killa Season' is a whole lot of the latter.
To be fair, the odds were stacked against this one from the start. For the film to be a true representation of Cam'Ron and Dipset, 'Killa Season' would have to have been directed by Michael Bay, and involve a 50ft tall Cam'Ron crushing anyone 'rocking sandals with jeans', repeatedly telling us of his new album's release date, and boasting about his sexual prowess. Of course, Hollywood was never going to be ready for Cam's vision, so he funded and directed it himself. And if you think his mixtape cuts are interminably long self-aggrandising mythology, you'll marvel at how well he's managed to bring that to the silver screen. I won't lie, I fell asleep. I mean, it starts off well – Cam gets in a scuffle at a dice game, breaks a bottle over someone's head and then urinates on him while repeating 'No homo, no homo' for what seems like forever….it's bizarrely paced and pretty funny. Unfortunately, the film is two and a half hours long, and at least two hours of that is Cam scowling in a badly-lit shop. To be fair, there is a montage of him wearing different fur coats at one point, and a gloriously surreal moment where Cam murders somebody on his bicycle, which almost slips by your WTF-ometer cause it's played so straight. His acting skills are twofold: looking like he's trying to figure out a sudoku puzzle (anger, fear, upset) and immense arrogance (everything else). His next filmic work is a documentary in which he beats up paedophiles, which sounds better in practically every way to 'Killa Season', but I'm still glad I saw it – if nothing else, I've seen Cam'Ron do a drive-by on a bike. So that's something.