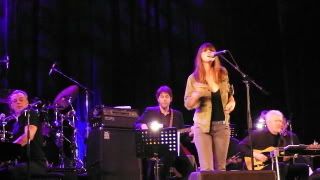 Le Grand Rex in Paris is a glorious example of the extravagant art deco picture palaces that were built in the thirties to impress the general public with the magic of the moving picture and the fantasy of exotic places. Worlds away from production line, snack dispensing, surround sound cinemas we have now. The Rex, like others of the era, takes the term picture palace literally and the three tiered auditorium is themed around an Alhambra styled Moorish castle. All the public areas outside the have beautifully preserved wood panelling and chrome detailing. This is not a regular rock circuit venue and only the lucky properly feted musicians get to grace its stage. Cat Power is such.
The set starts very much as the recent London show. The Memphis Rhythm Band ably warm up the audience and the sound engineers with their sinuous funk. Chan kicks off with the Greatest which has now cemented its place as her theme tune. Having pulled rank for a photo pass for the first three songs in a vain attempt to get something adequate to illustrate this dispatch, the first section of the show passes in a flash (not photographic however as these are barred).
Chan is on top form. She later claims to suffering nerves. Perhaps it is playing in Paris or the venue size but her nerves are not apparent in her vocal performance or her playful onstage manner. One of my favourite moments is her miming swimming strokes and surfing a board in the introduction to "Islands". The slightly fractured grain of Chan's voice in "Where Is My Love" is immensely powerful and simultaneously very sensitive. In a slightly self mocking move Chan holds her lighter aloft to symbolise an ironic power ballad nature of the song.
The solo section features "House of the Rising Sun" and beneath the glorious deco arch and purple curtains Chan is bathed in blue and green lights making her seem to be underwater. "Wild As The Wind" has an exquisite beauty and as "I Don't Blame You" is sung the stage lighting evokes the light of a shimmering green forest. The audience listen in rapt silence.
"Nude As The News" was a minor hit in France and its opening is very warmly welcomed. The version is a little fast for me but builds into a compelling crescendo and then blends into a rocking full band version of "I Can't Get No Satisfaction". If you watch closely you can catch Chan flapping her hands behind her bottom a la vintage Jagger.
After a surprising yet highly entertaining version of Gnarls Barkley's "Crazy" Chan starts throwing white roses into the audience. Has she gone all Morrissey on us? To dispel the image she launches into a long story about her childhood and it eventually evolves as an explanation about her life long love of Paris. And Paris loved her back.