By
Ruairi
on Tuesday, April 3rd, 2007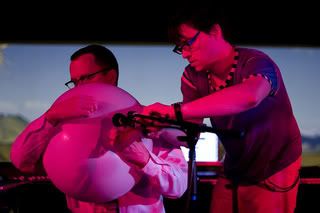 Matmos, along with Jay Lesser, will be playing at the Donau Festival in Austria in a couple of weeks time.
What kind of festival is it? Well, it's being curated by David Tibet, so I imagine it'll be very similar to Lollapalooza. The website is here.
EDIT: Actually guys, I've never been to Lollapalooza. Fennesz, SUNN O))), Nurse With Wound, Khan, Six Organs of Admittance – it's all that kind of thing, right?
EDIT: Oh, maybe a more accurate comparison would be like a more fun No Fun Fest. So, fun, then.
EDIT: By 'fun', I mean PUNISHING NOIZE. And The Notwist.